Skip to main content
FREE SHIPPING
30 DAY RETURN POLICY
Large assortment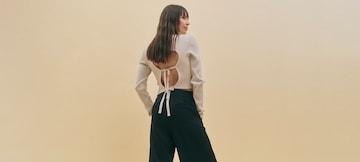 Creator Collaborations
Fashion isn't about anyone else. It's ABOUT YOU.
Do you want to be featured on ABOUT YOU's TikTok account?
ABOUT YOU is a fashion discovery destination for digital natives, where everyone can find and express their personality through fashion. With more than 450,000 followers on TikTok, ABOUT YOU is an advocate of personalized and accessible fashion.

Be part of the momentum and get featured on our TikTok account by following 4 simple steps:
- show your favorite ABOUT YOU looks in a fashion haul,
- use #aboutyouhaul,
- tag @aboutyou,
- don't forget to follow us so we can DM you if selected!

Can't wait to see your outfits!